Trainee Blog
#InspiringDiversity Conference 2021
Last Friday saw the inaugural Inspiring Leaders Diversity, Equity and Inclusion  Conference, organised for all our SCITT trainees by our secondary SCITT Hub Lead – Adam Brett. It was also the very first day that all 111 trainees across Leicestershire, Derbyshire and Nottinghamshire were together. A momentous day from start to finish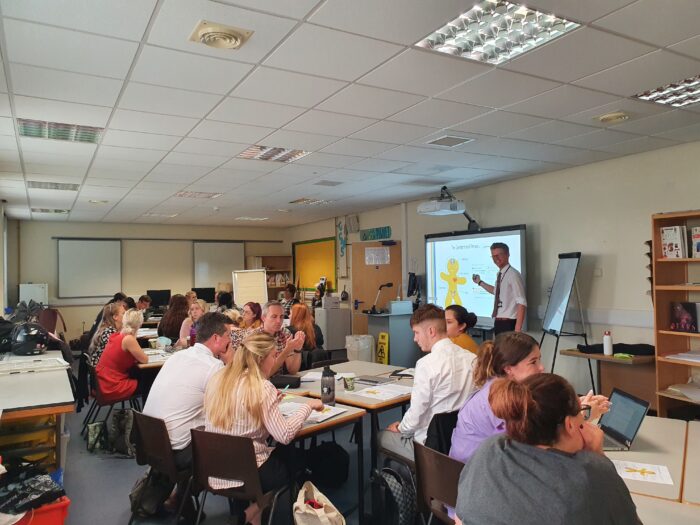 Adam in action in his LGBT+ Inclusion session
The day began with an encouraging and frank opening from Adam, where he encouraged us all to be comfortable with feeling uncomfortable and to look at ourselves as change-makers.
This was followed by an inspiring keynote from Claire Birkenshaw. Claire inspired us all to think deeply, act with human kindness and think about ontological security, and the significant difference teachers must make to children and their sense of self and belonging.
The trainees were then able to attend two workshops delivered covering the following topics. ​​​​​​​​​​​​​​
Claire Birkenshaw (Keynote)
Exploring the experiences of black and Global Majority teachers with Shonagh Reid
Disability and Intersectionality with Alex ToftSmall
Change Big Impact – adjusting our learning spaces so children can see and feel they are represented with Jo Venables
Building mental health and well being in schools with Sharon Cotterill
Being a woman in education and intersectional Identities with Azuraye Williams
The atmosphere on the day was incredible and the trainees really absorbed the learning, the impact that the day was having on our trainees could be felt.
ILTT have placed DEI as one of the key priority areas for reflection, evaluation and development across their team within this academic year and beyond, within the ITT curriculum and wider ILTT/ITT practice. Incorporating the threads of enhancing the learning environment and experiences of the trainees, as well as encouraging them to set high expectations of promoting DEI through their interactions, representation and lessons to benefit the children and pupils.
Change is happening, and we are proud to be immersing our trainees in this important step. We know they are going to be great advocates and that their pupils and students will benefit immensely.
​​​​​​​#Inclusionstartswithi